Niches
Webcams Sites Reviews
With the introduction of webcams and the possibility to stream real-time happenings to thousands of people who are more than willing to watch you do whatever you please, the potential in amateur solo pornography highly increased, and it still owns a decent part of the market. Gorgeous young girls recording their experiences with different sex toys, masturbating for a wide audience, having sex with their boyfriend to fulfill the viewers wishes, along with anything they can do in their rooms for a small amount of easy money they are getting from the people who just want to jerk off to a real girl who masturbates with, and for the viewers.
Webcams
1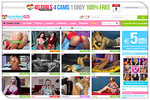 Score: 81.3
Seventeen Live Date: 2015-12-02
Seventeen Live is a live webcam site which offers the viewers sexy teens who love showing off what they've got in front of the camera. Even if the name has the 'seventeen' in it, don't worry. All the teen babes on the site are legal. You will mostly see 18 to 22-year-old kinky chicks, but there are some older girls on the site too. We are not entirely sure if that is a pro or con, but they are sexy as hell either way. The site has an alright design and focuses on the girls.
★ Read Seventeen Live review » ★
Niches: Webcams Young Adults
2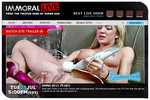 Score: 80.7
Immoral Live Date: 2015-07-21
520 beautiful girls can be seen on Immoral Live and they star in some really hot HD hardcore content so the members are never bored with what the site throws at them. The videos, or live feeds last approximately 70 minutes and the ones that are not happening live when watching them can be downloaded (1920x1080) in amazingly sharp quality. The images which can be seen on the site are also ready for downloading in ZIP files.
★ Read Immoral Live review » ★