Niches
Shoes Sites Reviews
When a woman loves her shoes, it is nothing special, but if she is sexually attracted to this footwear, you get a softcore porn niche that covers every fetish involving female shoes. These ladies like to talk about their stilettos, they like to rub, caress and even lick their expensive high heels, while others tend to take things a little bit further, stimulating their clits with the heels, humping the most expensive boots or just cover themselves in a wide array of footwear and talk about how good it feels while masturbating to the joys of shoes touching their most intimate places.
Shoes
1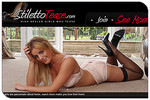 Score: 80.1
Stiletto Tease Date: 2015-10-27
Stiletto Tease is a softcore site revolving around naturally gorgeous models and their unspeakable love and attraction towards beautiful high heels. The scenes mostly involve one, or sometimes two, British models speaking to the camera or chit-chatting about their addiction to stilettos and discussing fantasies that involve both men and shoes. The ladies may be fresh-faced but many of them have a record of modelling or some experience in the erotica industry. The scenes mostly consist of partially dressed women having fetish fantasies and softcore teases with their shoes, they lick and rub the shoes all over their bodies, firmly touching their most sensible body parts like their nipples and even their clits with the heels, making them moan and have loud and wet clit orgasms. The site is pretty much unisex, as it entirely focuses on shoe fetish, and it is enjoyable by both genders if you share this addiction towards footwear.
★ Read Stiletto Tease review » ★
Niches: Feet Fetish Foot Fetish Legs N Nylons Shoes
2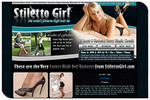 Score: 79.3
Stiletto Girl Date: 2015-10-27
Stiletto Girls is a fetish paysite dedicated to women's sexy feet in general, but you will almost always see them wearing some sexy high heels to emphasize their good looks. There are a lot of models on the site, mostly a bit more mature, meaning that you won't find any teens on this site. The site is dedicated to real women who know how to turn on a man. The site's design doesn't look really good, but if you focus on it's material and models, it doesn't really matter anyway.
★ Read Stiletto Girl review » ★
Niches: Feet Fetish Foot Fetish Legs N Nylons Shoes