Niches
Piercings Sites Reviews
What can make a gorgeous lady's breasts and pussy sexier than it is? Piercings, of course. Tiny pieces of jewelry pierced through pointy nipples, bellybuttons and even on pussies. Aside from many body piercings that can be found all over beautiful girls, from their sweet faces to the whole arms and legs, you will be presented with a lot of intimate genitalia piercings as well, such as those that go through the tender pussy lips, form a circle around the asshole, decorate the pussy mounds along with tongue piercings that actually help with blowjobs, making them feel much more unique and exciting.
Piercings
1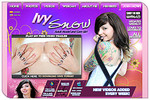 Score: 81.7
Ivy Snow Date: 2015-11-30
Ivy Snow is an individual models with a passion for poker, pole dancing, food, tattoos and most importantly, making fantasies of her followers come true. You can watch her stripping naked, trying out different kinds of outfits and even enjoying her wet pussy as regularly as she possibly can. She is a real cutie and when she's not busy playing poker, she can be seen getting naughty on her personal site, posing nude while firmly rubbing her tight, pink pussy with her long finger, as well as with dildos that usually reign supreme here. Ivy is covered in colorful tattoos and you can get a good look at all of them as she is almost always naked. She has curves in all the right places, and features a head-to-toe natural body as well, which is quite irresistible. She also writes a blog and interacts with members through her live webcam shows and social networks.
★ Read Ivy Snow review » ★
Niches: Amateur Goth Individual Models Piercings Softcore
2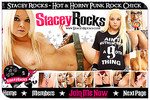 Score: 77.0
Stacey Rocks Date: 2015-07-20
Stacey Rocks is the official site of a young blonde with big brown eyes and a world class body who gets naked and participates in passionate teasing sessions with her girlfriends, just to tease every male viewer who will never get to taste her pink, juicy pussy, as she plays for the other team and states it a lot with t-shirts and phrases. Stacey is a tall cutie, a so called "punk-rock" girl with a few piercing and an athletic body with abs showing and hip bones ensuring her ass is wide but hard and round, perky B-cup tits with hard, puffy nipples and long, sexy legs that she likes to abuse when posing and spreading to show off her tender pussy lips and occasionally rub her clit. When her girlfriend are around, you will see a lot of kissing and caressing, but the action doesn't get much raunchier than that.
★ Read Stacey Rocks review » ★
Niches: Amateur Blondes Piercings Young Adults
3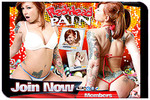 Score: 0.0