Niches
Stories Sites Reviews
If you got bored of the genuine pornography that is spread around the internet, and even watched more hardcore and bizarre flicks that you would publicly admit, maybe it is right about time to get back to the basics and use your imagination. Under this niche, you will find the most stylish sites which don't feature any nudity or pornography, only well-written and highly sophisticated erotic stories with a wide array of fantasies and themes explored, from having an affair to making love to your mother in-law, every common and unconventional fantasy has a great story to it, waiting for you to read and enjoy the written pornography that will revive your imagination.
Stories
1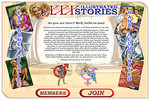 Score: 0.0
Illustrated XXX Stories Date: 2016-04-13
Illustrated XXX Stories is a really interesting paysite, and we will explain why we think so. As you can probably tell from the sites name, it is not you average porn paysite with mindless hardcore sex videos and images. This site consists of short erotic stories which are combined with some very exciting illustrations or comics if you prefer. Call them what you want, but the stories by themselves are erotic enough and if you can use your imagination well enough, the illustrations are here to help you.
★ Read Illustrated XXX Stories review » ★