Niches
Nerds Sites Reviews
One of the most uplifting and inspiring scenarios in porn are those that feature a nerdy guy getting laid by a gorgeous girl who is way out of his league. These guys have no special features that may attract a beautiful lady, no abs, no ripped upper body, no tattoos or piercings, only the average male look, skinny or a bit overweight, geeky haircut, a possible neck-beard, average or small sized cock, and just overall nothing exciting that could make a girl wet, yet these guys will get to taste the pussies of these beautiful models, get blowjobs and even have anal sex with them.
Nerds
1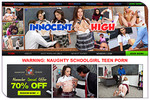 Score: 89.2
Innocent High Date: 2015-11-30
Innocent High is a very interesting paysite which offers us a high school theme niche which involves some of the hottest teens I have ever seen. These barely legal babes will do anything for a passing grade, no matter how rough it might be. Blowjobs, hardcore pussy pounding, anal, cumshots, everything. From shy bookworms to the toned athletes, all these girls love sex more than anything and will rather fuck their teacher for an A than waste their time studying for hours and hours.
★ Read Innocent High review » ★
Niches: Hardcore Nerds Uniforms Young Adults
2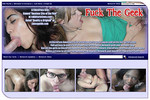 Score: 80.4
Fuck The Geek Date: 2016-04-09
Fuck The Geek is a reality site that following the adventures of Logan, the average nerdy guy-next-door who is the webmaster for the Chick Pass network. This site is the proof to the porn industry that even though they may be bookworms or those that you would not think could get a hot girl to give them a second look, can and will get fucked by gorgeous girls maybe even more often than their hunky, tattooed competitors. Usually, the action takes the form of threesomes, group sex sessions or orgies, which leads to the action being more often than not very entertaining indeed and, although there isn't a huge amount of experimentation with the formula, everyone seems to enjoy themselves immensely, which is the whole point of an amateur site like this. There are beautiful Asian women, exotic and enticing interracial sex, lesbian interludes, deep throat, doggie style with both anal and vaginal fucking and all of the things that fall between foreplay and orgasm.
★ Read Fuck The Geek review » ★
3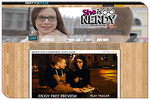 Score: 0.0